Welcome to Fluidesign
Fluidesign manufactures Elite and Club racing shells in London, Ontario, Canada. We are an official supplier to the Canadian National Rowing Team. The current world record time (6:47.82) for the Lightweight Men's single was accomplished by Zac Purchase in a Fluidesign Elite Single on August 26th, 2006.
Fluidesign shells have been winning races every weekend since their introduction in early 2000 - including the World Rowing Championships, Canadian Speed Order Regatta, U.S. Speed Order Regatta, Head of the Charles Regatta, World Masters Championships, Royal Canadian Henley Regatta, Canadian Schoolboys Championships (CSSRA), Canadian University Rowing Championships (CURC) and more.
BlueMax
The BlueMax is constructed with high modulus carbon that increases the stiffness and reduces the weight by .75 lbs. The new modular rigger is standard on the BlueMax and optional on Elite Models. The design is a single tube proprietary aluminum shape that has enhanced stiffness over the standard rigger as well as being .5 lbs lighter.
New Rigger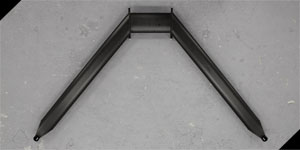 Optional on all Elite model boats, our new modular single tube rigger; lighter, stiffer, and a great new look. (Available in black only)
Check it out
Welcome to our brand new website! With the same amazing boats and a great new look, you're sure to find everything you're looking for. Take a look around and check out some of our featured items below:
Contact Us